Bollywood beauties make a patent picture in all our minds. Slim muscular body, size zero, long legs and so on. Well! Not for long. Many plus size B-Town Divas are ruling the screen nowadays and are considered the most beautiful ones too.Inspiring all the plus size women across the country, that they have every right to look hot and sexy, these Ladies have proven, that "Beauty isn't measured in lbs."
Here is a quick list of top 5 Bollywood Divas who have given the world a simple yet elegant message.
"Body Confidence does not come from trying to achieve the 'Perfect' body.
It comes from embracing the one you've already got."
Source : http://bit.ly/2aeErH5
This actress has faced a lot of criticism regarding her plus size and weight. She shut every mouth with back to back blockbusters including The Dirty Picture (for which she gained 12 extra kgs), Kahaani, Isqkia, Paa and so on. She has impressed her fans not with body but her acting skills which is the whole point of being an actress anyways.
Flaunting her body in every attire be it Western wear or the Sensuous Silk Sarees, she proudly says "Size Zero is boring."
Source : http://bit.ly/2a4q1w9
The bold actress sent a strong message through her photoshoot for Famina Magazine, "I don't owe you Perfection. My Body. My Rules." Despite of her plus size body, she has dazzled millions with her breathtaking performances in Gangs of Wasseypur (both parts), Badlapur and the recent music video "Tumhe Dillagi" by Rahat Fateh Ali Khan. With 3 'Filmfare Awards' in her kitty already, she has a long way to go and hence inspires many plus size ladies to become next Huma Qureshi of B-Town.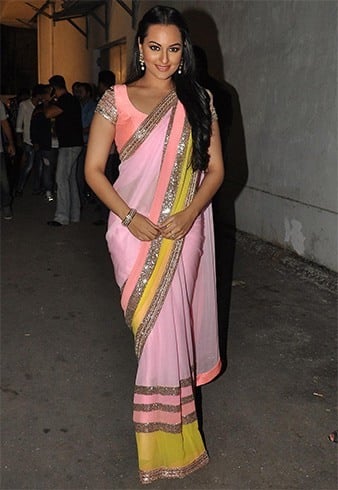 Source : http://bit.ly/2aDbpld
Bollywood's Female Dabang, Sonakshi Sinha debuted on the silver screen with a plus size and caught many eyes. With an ever growing list of fans, this actor plus singer has no looking back. With her acting skills, she has become inspiration to other actress who has started to cheat their diets in order to become next Sonakshi Sinha.
Source : http://bit.ly/2ajcaAB
One of the most precious gem of the B-Town is worth including here. After giving birth to a beautiful baby girl, she gained a lot of weight. But that did not stop her from stopping many hearts when she had the most dazzling Red Carpet Walk in the Cannes Film Festival.
She is an ultimate inspiration to the Bollywood Actresses who are afraid to have kids just to save their body. Hats off to her <3
Source : http://bit.ly/2aDdi1b
A plus size actress with 127 pound weight managed to become one of the most "in demand" actress in Bollywood at one time. She has won numerous award and has once again proved, "Beauty is about being comfortable in your own skin."
Source : http://bit.ly/2azGkjI
Well! I saved the best for the last :P After starving herself for months in order to achieve size zero, she says that she does not want to go back to her 'Size Zero' days ever and has consciously decided to get more voluptuous.
She has given a lesson to all those starving ladies out there that, "There is a difference between "Starving Yourself" and "Eating Healthy" in order to keep yourself fit."
So all my lovely Plus size ladies out there, it's time to embrace yourself and rock the world. After all, " Jab zindagi ek baar mili hai toh do baar kyun soche."